The UEFA Champions League 2019-20 is set as the group stage was officially drawn this past week. After two months of qualifying for the minnows of European club football, they will now join the big boys of European soccer for the group stage.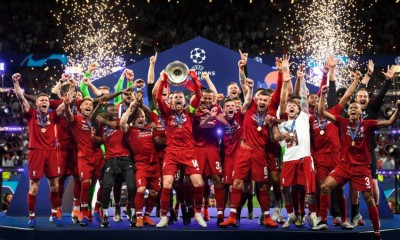 Last season's Champions League winners, Liverpool, go into the new season ready to defend their title. However, the Reds will have plenty of challengers gunning for them and it won't be easy for Liverpool to qualify for the UEFA Champions League 2019-20 final this time around.
What is the UEFA Champions League 2019-20?
The UEFA Champions League is the annual tournament that sees the best of the best play in a midweek competition against each other on the European continent. Thirty-two teams are divided into eight groups of four teams. Each team plays a home and away match against the others in their group with the top two advancing to the round of 16. From there, each team plays a home and away series until the final.
Who are the favorites to win the UEFA Champions League 2019-20?
Liverpool are the reigning cupholders but head into the competition with the third-best odds. The Reds have qualified for two straight Champions League Finals, can they make it a third?
Manchester City +350
Barcelona +500
Liverpool +700
Real Madrid +1000
Paris Saint-Germain +1100
Bayern Munich +1200
Group of Death
Every season sees one group of death in the group stage of the tournament. These groups tend to have three to four teams capable of progressing to the knockout stage. Last season, Liverpool were in a group of death against PSG and Napoli and needed a dramatic final group stage win against Napoli to just make the elimination round. From there, Liverpool were unstoppable although they did need an amazing come back against Barcelona to make the final.
The UEFA Champions League 2019-20 has one group of death this term and it is Group F.
Barcelona, Inter Milan, Borussia Dortmund, and Slavia Prague make up the group of death and it will be difficult for any of the teams to go through the group undefeated. Slavia Prague will be the whipping boys of the group while the other three will be able to take points off each other.
Group H will be a wide-open group as laster season's Europa League winners Chelsea will play against France's Lille, Spain's Valencia, and the Netherlands' Ajax. On paper, any of the four teams can go through to the elimination round.
UEFA Champions League 2019-20 betting strategy
Don't wager on 'first player to score' bets
A lot of sportsbooks advertise bets for 'first player to score'. Why is this? Because the likelihood of this bet winning is high. Rather than betting on first to score, wagering on an 'anytime goalscorer' is a far better bet.
Don't create insane accumulators
Accumulators are popular bets because you can win a lot of money for a small wager. But the odds for these types of wagers go up astronomically because punters put loads of unlikely results on the betslip. Create a strategy and stick to it but don't fall into a routine.
The post UEFA Champions League 2019-20: Soccer's premier club tournament set appeared first on NFL Picks | NHL Picks | Hockey Predictions | Winning Sports Picks | MLB Predictions | NBA picks | MLB picks | Soccer Picks.