NFL Week 10 sees a battle for the top of the NFC West as the perfect 8-0 San Francisco 49ers host the 7-2 Seattle Seahawks.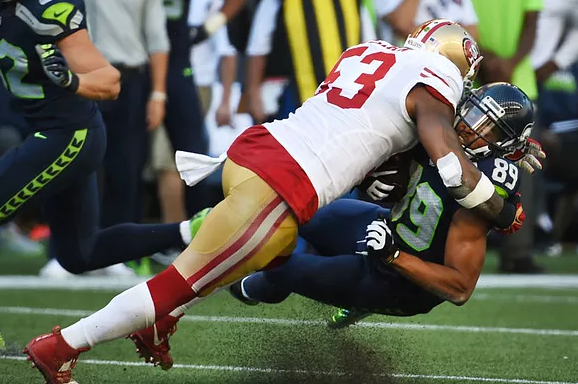 We've picked out two more big NFL Week 10 games this week. The NFC will also see a big game between the Dallas Cowboys and Minnesota Vikings. Over in the AFC West it is a battle of California with the Los Angeles Chargers playing the Oakland Raiders.
Let's take a look at the three games Zcode System has outlined for NFL Week 10.
Seattle Seahawks vs. San Francisco 49ers
The San Francisco 49ers will host Seattle Seahawks on Monday Night Football. The 49ers are sportsbooks' favorites to pick up the win against the Seahawks. The home team has won three of the last four games between the Seahawks and 49ers. Their last meeting last December saw the 49ers win 26-23 in overtime.
The 49ers defense allows just 12.75 points per game. Seattle's defense has been far weaker allowing 25.6 points per game. However, Seattle have won back to back games, so they are going strong right now. Those wins came against the Tampa Bay Buccaneers and Atlanta Falcons.

San Francisco is 6.5 point favorites heading into NFL Week 10. Jimmy Garoppolo could have a big game against a Seahawks team that allow over 25 points a game. San Francisco should continue its excellent play with a win over the Seahawks.
Winner: San Francisco 49ers
Point Spread forecast: -6.5 (9%) on SF 
Total: Under 46.5 (55%) 
Seattle Seahawks TT: Under 20.00(58%) 
San Francisco 49ers TT: Under 26.50(58%) 
Note: Divisional Game! 
Minnesota Vikings vs. Dallas Cowboys
The Dallas Cowboys head into NFL Week 10 burning hot and winners of two straight games. Those wins came against NFC East rivals the Philadelphia Eagles and New York Giants.
Minnesota is coming off a surprise loss to the Kansas City Chiefs at Arrowhead. The Vikings conceded a late lead to the Chiefs and fell to a 26-23 loss. The Vikings are chasing the Green Bay Packers in the NFC North. The road hasn't been kind to Minnesota as the team has posted a 2-3 record away from home.
The Cowboys are 3-1 at home and should make that field advantage count against the Vikings. Cowboys running back Ezekiel Elliott has run for over 100 yards in his last three games. That trend should continue with the Cowboys gaining a win at home against the Vikings.

These teams haven't played since 2016, but the Cowboys did win on the road in that game.
Winner: Dallas Cowboys
Point Spread forecast: +3 (51%) on MIN 
Total: Under 47 (51%) 
Minnesota Vikings TT: Over 22.50(50%) 
Dallas Cowboys TT: Under 24.50(52%) 
Los Angeles Chargers vs. Oakland Raiders
The Los Angeles Chargers will visit AFC West rivals the Oakland Raiders on Thursday night. The big news concerning the Chargers this week is a potential relocation to London that is being mentioned amongst NFL circles. Fans in LA have never wanted the Chargers and low home fan attendances continue to prove the franchise's move north was foolish.
The Chargers are 4-5 and head into NFL Week 10 in third place behind the 4-4 Oakland Raiders. The Chargers have won four straight games against Oakland with two of those wins coming away from home.
Oakland is 3-1 at home this season while the Chargers are 2-2. Is there a possible Oakland upset on the cards for Thursday night?
LA has won two big games against tough NFC North opponents in back to back weeks. The Chargers defeated the Chicago Bears and Packers in back to back weeks. I feel the Chargers can continue their current streak with a big win over the Raiders.

Winner: LA Chargers
Point Spread forecast: +2.5 (47%) on OAK 
Total: Over 48.5 (50%) 
Los Angeles Chargers TT: Under 24.00(63%) 
Oakland Raiders TT: Under 24.00(51%) 
Note: Divisional Game! 
The post NFL Week 10: San Francisco 49ers host Seattle Seahawks in NFC West clash appeared first on NFL Picks | NHL Picks | Hockey Predictions | Winning Sports Picks | MLB Predictions | NBA picks | MLB picks | Soccer Picks.